The difference of one point- what the South African World Cup Rugby victory can teach us for ESG.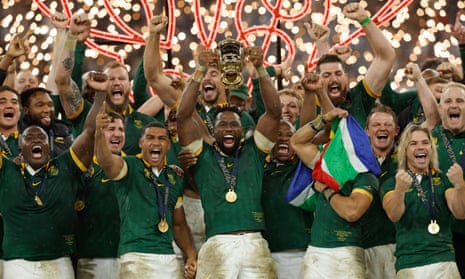 Like many other South Africans over the past few months, we have sat on the edge of our sofas, fluctuating between euphoria and agony as we watched the Springboks battle for a position in the final of the 2023 World Cup rugby tournament in Paris and finally lifting the coveted trophy last night. It was as the Guardian reports 'a heart-pounding drama'.
I watched how they dug deep, focussed with bloody-mindedness on the outcome, stared the All Blacks in the eye as they performed the Haka.  How many ESG professionals feel that they face a knockout when they look for more support, more budget, more time, and more diversity?  Those companies that have engaged senior leadership on this journey recognise that digging deep, addressing adversity, and providing the right coach and environment is the baseline for success.
For many professionals that are trying to ensure that ESG remains front and centre of their business, achieving this goal is not possible in a day, or even a year. The Springboks have trained for four years to get to play in the World Cup again- many had the symbol of their efforts displayed publically, with supports strapped around knees and arms, broken noses healed slightly skew,  torn and strained muscles and exhaustion etched on their faces.   Not all ESG professionals carry these physical symbols of their struggle, but we know from experience for many of them it's not been easy trying to move organisations into a place where they can ensure they are 'fit to play'. I have listened to the stories of exceptional women on my podcast and each one shares a road that has not been straightforward but is marked by passion and resilience. Getting to achieve a goal where ESG is embedded across the business is a journey requiring effort, learning from mistakes, building on strengths, moving towards an agreed goal.
What does winning or a point have to do with any of this when we are discussing ESG?   Many companies are not looking to be 'leading' or going much further than meeting compliance obligations, but what we see is a shift in gear where companies can no longer be guaranteed the opportunity to participate in a 'tournament' without at least having a full team that is fit to do so.  While it might be enough to do the bare minimum, depending on the size of the company, this is becoming more tricky- even small companies are being pushed by their customers to be able to demonstrate their ESG credentials. Large companies and listed companies in the UK and the EU have more stringent reporting and due diligence regulations that they must meet, but a gamechanger is where a company has to rely on tenders to win work from public bodies – if it doesn't meet the required scoring to pass the tender, there is a risk that it will not be able to secure its financial security. Of course, where companies do pass the tender requirements, every point will make a difference in being successful.
The noticeable divide in the World Cup between the North and the South in the final also lends itself to considering whether this divide exists across the globe when addressing ESG. We are seeing a shift in legislation in the EU primarily with some other governments, such as Australia and Mexico taking steps to impose mandatory human rights due diligence legislation, but the USA and the UK are lagging behind. Whilst France and England made it to the semi-finals, it was the teams from the south that pushed through. Value chains are the dominant feature of world trade and the spotlight on the north/ south divide in working conditions and expectations lends itself to companies having to consider how they bridge these issues. Catch-up is needed on so many fronts.
So what must an ESG team consider to get fitter?
Consider your goal- do you want to 'play' in the tournament in the first place? Is it winning or making it into the 'tournament'?
Appoint your coach – the leader who has the vision and will put the resources behind the team.
Equip your team – forwards, centres, defense, attackers. Each key player has a role with different requirements.
Set your training plan- what are your gaps? Where are your strengths? Who is your competition? How will you get the best from each member of the team?
Understand the rules of the game for the points you need – are there tenders that must be met, customer requirements, investor scrutiny, shareholders, FTSE4 Good, legislation requirements
Have fun on the way!
Contact us:
Contact us to see how we can support you.
You can opt out of hearing from us at any time using the unsubscribe link in our emails. Read our full privacy policy.